Japanese Prime Minister Shinzo Abe's two-days official visit to India is on Today. Today prime minister Modi and Shinzo Abe will arrive at Gujrat, Ahmedabad. The 12th India-Japan summit will be in Gandhinagar, the capital of the Prime Minister's home state Gujarat. This summit is an effort to strengthen the India-Japan bond. Well, a special arrangement is done to receive Abe from Airport. Prime Minister Modi will receive Abe from Airport.  Ahmedabad is fully decked up to greet Abe.  
Japanese Prime Minister Shinzo Abe's two-days official visit to India , PM Modi will be welcoming Abe
Before two years, soon after assuming office Prime Minister Narendra Modi made his first bilateral visit to Japan, India's immediate neighborhood. During that visit, Japanese PM Shinzo Abe flew down to Kyoto to offer a warm welcome to our prime minister. This time PM Modi has got the chance to return the favour in a grand manner.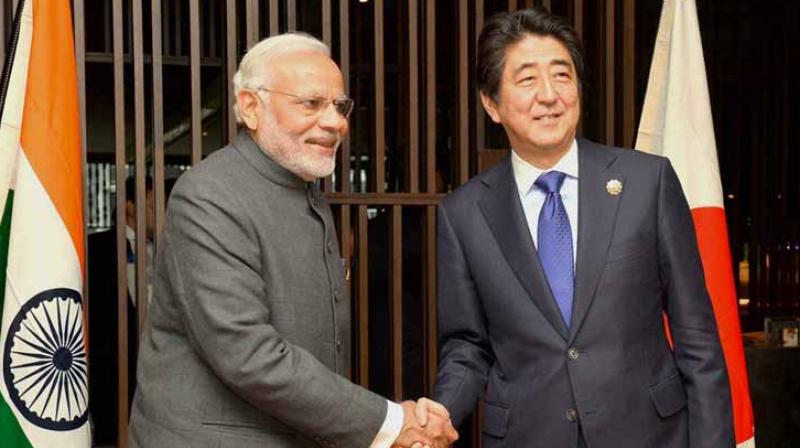 Abe will be flying to India for two-days annual India-Japan Summit with Indian prime minister Narendra Modi. The India-Japan summit is going to start from Wednesday at with Modi in Gandhinagar, the capital of the Prime Minister's home state Gujarat.
This time PM Modi is all set to offer a grand welcome to Abe. Our prime minister took it to Twitter and tweeted in English as well in Japanese "I look forward to welcoming PM @AbeShinzo. I will be hosting him in Gujarat in our fourth annual summit together."
Modi  further added "PM @AbeShinzo and I will attend a wide range of programs on 13th and 14th September 2017, aimed at further boosting India-Japan ties."
In another tweet, Modiji also tweets about their program that will be meant for the start of first high- speed rail project between Ahmedabad and Mumbai. The train will take significantly less travel time between these two cities. Well, we know Japan is the discoverer in high sped rail networks.
Ahmedabad decked up ahead of PM Modi & Japan PM Shinzō Abe's visit starting today,will hold a roadshow to Sabarmati Ashram (Last night pix) pic.twitter.com/1njyTNQc2C

— ANI (@ANI) September 13, 2017
Respecting to the healthy relationship of India with Japan PM Modi further said about strengthening the bilateral ties through a wide range of sectors.
During this summit, both the leaders will discuss the progress in a different direction between India and Japan under the framework of their Special Strategic and Global Partnership. They will also set some future goals.
Plans under Shinzo Abe Welcome
Besides all these, a roadshow in Ahmedabad is also ahead of all arrangement on Wednesday. This is for the first time when Modiji is going to hold a road show with a counterpart from another nation.
On this road show, the two leaders will cross through Sabarmati Riverfront. There 28 small stages will be made. Dancers from 28 different states will be dancing in their traditional attire as to welcome Abe as they pass. After visiting Sabarmati Ashram, both of them will take rest until evening. In the evening both the prime ministers will pay a visit to iconic Sidi Saiyyed Mosque present at the eastern part of the city.
There is also a dinner arrangement at 'Agashiye' restaurant located near the mosque.
On Thursday both Modi and Abe will attain Bullet Train project. Here in this ceremony, the discussion of ambitious Mumbai-Ahmedabad High-Speed Rail Project will take place.