BRICS 2017 is the ninth annual BRICS summit that is going on in Xiamen, China. This is the second time China is hosting BRICS submit after 2011. Soon after his arrival, a group of Indian staying in China greet PM Modi at the Hotel in China along with Chinese President Xi Jinping. After addressing the plenary Session Modi at BRICS summit says India's main mission is to eradicate poverty and a promise to improve health, education, food security and an improved sanitation.
Modi at BRICS summit says India's main mission is to eradicate poverty
Currently, our PM Narendra Modi is attending BRICS in Xiamen. Soon after he reached China, Modi had a warm welcome from Chinese President Xi Jinping as well as the Indians staying in China. Today on Monday Modi started addressing the Plenary Session of the BRICS summit with a thanx to president Xi Jinping for his warm reception and the grand organization of BRICS summit.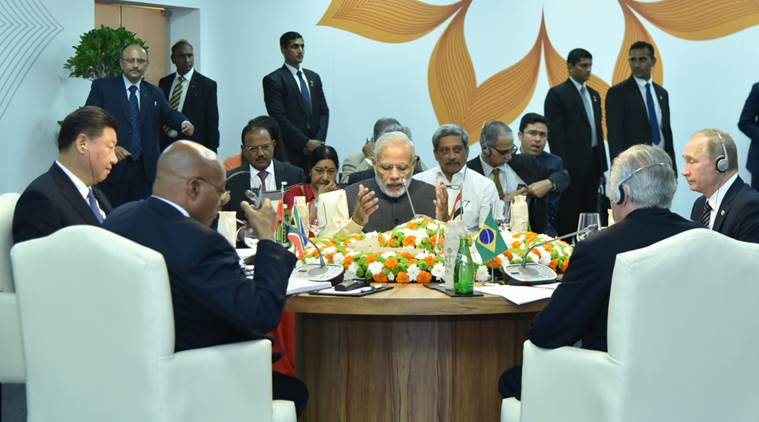 Addressing all in the ninth BRICS summit Modi said that India is all geared to eradicate poverty and to improve health, education, sanitation as well as food security. PM said, "We are in mission-mode to eradicate poverty; to ensure the health, sanitation, skills, food security, gender equality, energy, education."
While talking about women empowerment programs Modi said these schemes as productivity multipliers that mainstream women in nation building. Modi also spoke about the need for sustainable energy for the development of BRICS countries. He added "Affordable, reliable and sustainable access to energy is crucial for the development of our nations. Renewable energy is of particular importance.
He even focused on International Solar Alliance and the need of the BRICS nation to work in close collaboration with ISA to strengthen the solar energy agenda. Modi's speech also emphasized the need of work of cooperation in smart cities, disaster management, and urbanization.
Last but not the least, Modi concluded his speech with focusing the importance of BRICS nations partnership on the innovation and digital economy that will be an incentive to grow.