Bangladesh's disrespect towards India continues till date. This time it has gone a bit overboard. One of the Bangladesh fans shows disregard to our Indian flag on social media by draping our national flag on the dog and theirs on the tiger ahead of ICC Champions Trophy. This pic has gone viral over social media.
Bangladesh fans shows disregard to our Indian flag on social media by wrapping it around a dog's pic
India-Bangladesh Match is not that much rivalry as that of India-Pakistan. Despite this, whenever these two sides face off each other, the Bangladeshi cricket fans creates scenes. At times this goes a bit overboard. This time when India has geared up to face Bangladesh on semifinal, the Bangladesh fans have shown disregard to our Indian tri-colour flag on social media by draping it around a dog.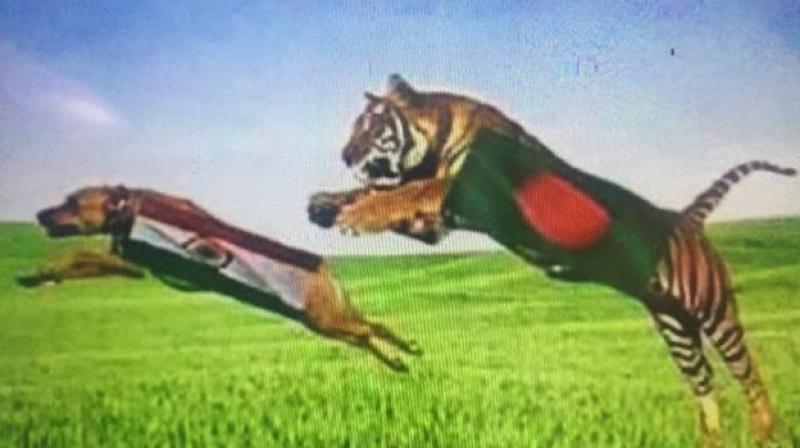 The Bangladesh cricket team has its official page on Facebook as Bangladesh Cricket: The Tigers'. As Bangladesh cricket team is known by the nickname 'The Tigers'. But one of the fans of Bangladesh cricket has taken this  'Tiger' analogy seriously. And he posted a pic on social media that shows our Indian tri-colour flag wrapped around a dog and Bangladesh national flag being draped on a tiger.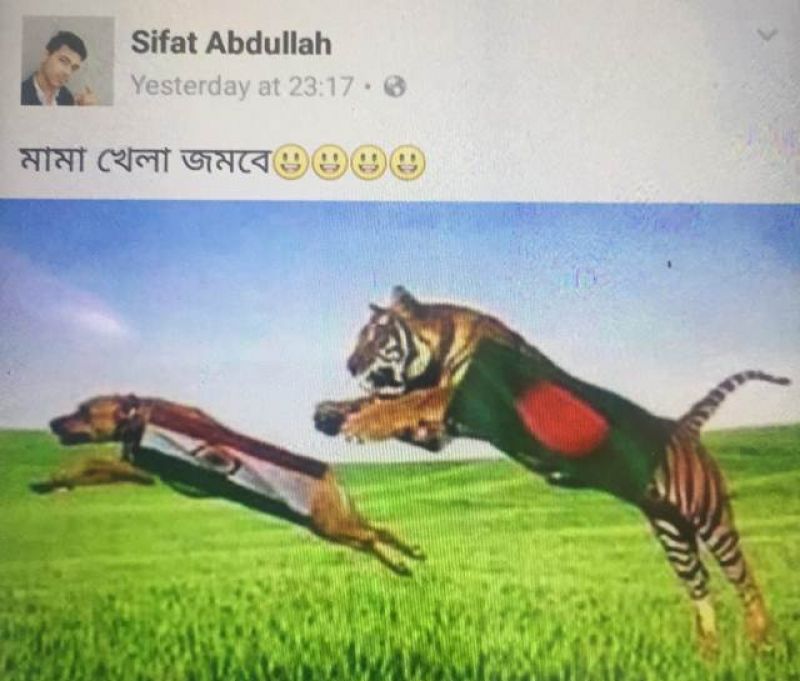 The literal meaning of what written on the image is "It is going to be a great match."
This is not the first time Bangladesh did like this to Indian Cricket Team. In 2015 June, when Mustafizur Rahman ran through the Indian batting line-up during the three-match ODI series, one of the newspapers of Bangladesh circulated a 'fake' cutter advertisement.
That ad showed Mustafizur Rahman with a cutter and the  Indian cricket team players with half-shaved heads.
The disrespect of Bangladesh towards India continued. One more pic showing Taskin Ahmed holding MS Dhoni's head also became viral during last year when  India and Bangladesh were to face each other in Asia Cup final.
But India beat Bangladesh in that match.